What You Need to Know About Debt Collectors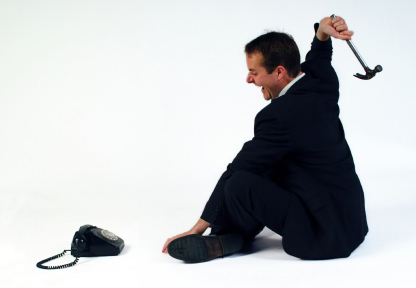 As if owing money one cannot afford to repay isn't bad enough, many consumers who are experiencing financial hardship often find themselves being caught up in a whirlwind of debt collectors who are constantly hounding them for money. Unfortunately, debt collectors are interested in one thing and one thing only- your hard earned cash- and many will go to just about any extent to get to it. If you are finding yourself being hassled by debt collectors, there are some things you should know in order to better protect yourself.
You do NOT have to disclose any information, or even answer your phone if you choose not to. You are not obligated by any laws to disclose any information about yourself, and while debt collectors will sometimes insist that verification of your employment, birthdate, social security number or other information is required in order to verify the debt, it simply isn't so. Furthermore, you have the right to send a cease and desist letter that makes it illegal for the collector to contact you any longer.
If an account is already in collections, paying it off will not remove it from your credit report. Collections accounts can remain on your credit report for up to seven years, and while debt collectors certainly have the ability to willingly remove any derogatory information about the particular debt from your credit report, they are not obligated to do so. If you have decided to pay off or settle a debt with a collection agency, ask that they remove the mark from your credit, and if they agree, get it in writing.
You will not go to prison for failure to repay a loan, hospital bill, or most other types of debt. You can, however, do some jail time for failure to pay your federal taxes, child support, etc. While creditors have the right, in some states, to sue you for nonpayment of your debts, and a judgment against you means you are legally obligated to pay up, debt collectors who threaten you with jail time are doing so illegally.
You do not have to pay huge down payments or make payments by a certain deadline. Most debt collectors work on a commissioned basis, and they know that by getting more money upfront, they are increasing their own paycheck. While they may tell you otherwise, making a large down payment is no necessary in order to settle your debt. Additionally, collectors typically have a contract that contains a "best collected by" due date, and after that date, their contract can expire making it impossible for them to receive payment for collecting your debt.
When you file bankruptcy, debt collectors can no longer contact you due to an automatic stay that prohibits it.
Contact an experienced bankruptcy attorney for more information about the laws governing debt collection and bankruptcy.
Although located in Costa Mesa, we also service these Orange County cities: Aliso Viejo, Anaheim, Bell, Bellflower, Brea, Buena Park, Carson, Cerritos, Cypress, Dana Point, Diamond Bar, Downey, El Monte, Fountain Valley, Fullerton, Garden Grove, Hacienda Heights, Huntington Beach, Irvine, La Habra, La Mirada, La Palma, La Puente, Laguna Beach, Laguna Hills, Laguna Niguel, Laguna Woods, Lake Forest, Lakewood, Long Beach, Los Alamitos, Mission Viejo, Newport Beach, Norwalk, Orange Placentia, Paramount, Pico Rivera, Pomona, Rancho Santa Margarita, San Clemente, San Juan Capistrano, Santa Ana, Seal Beach, Stanton, Tustin, Villa Park, Walnut, West Covina, Westminster, Whittier & Yorba Linda California.