Bankruptcy isn't Scary with a Bankruptcy Attorney in Orange County, CA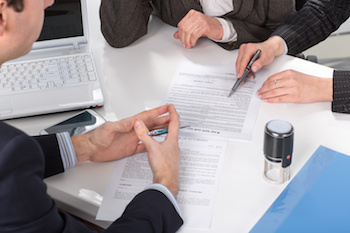 If you are considering filing bankruptcy, you may be frightened by all of the horror stories out there. It's important to remember, however, that most of these bad experiences come from people who either decided to "go it alone", or those who hired inexperienced bankruptcy attorneys. Filing for bankruptcy doesn't need to be such a frightful experience, however. With an experienced bankruptcy attorney Orange County residents can rest assured that they will have all the tricks on their side, so they can begin to enjoy some of the treats that go along with being relieved from their debt.
While there are numerous advertisements on television and the internet that boast "do it yourself bankruptcy", in most situations this is not the best road to take. There are a number of reasons that consumers should steer clear of "do it yourself bankruptcy".
• Out of Date Forms: When you purchase a "do it yourself" bankruptcy kit, you never know whether the forms you receive are up to date, complete, or even the correct forms for your unique situation.
• No Legal Advice: One of the worst factors about filing for bankruptcy alone is the fact that you do not have any legal advice in the event that you run into problems or have questions. Additionally, when creditors know that you don't have an attorney on your side, they are more likely to try to dispute your case, which can mean more money out of your pocket, and more time in the courtroom.
• Changing Laws: Without an experienced bankruptcy attorney, you will have to rely on yourself to interpret the ever changing laws that govern bankruptcy. Additionally, most consumers who are considering filing bankruptcy are under a significant amount of financial stress, and are searching for the cheapest route out of debt. While this may seem like a good idea initially, by hiring a lower priced, less experienced bankruptcy attorney Orange County residents will almost surely get what they pay for. Reasons you might want to hire a more seasoned bankruptcy lawyer aren't that scary, but they may shake you up a bit.
• Familiar with Recent Changes in the Laws Governing Bankruptcy: By hiring an experienced bankruptcy attorney Orange County residents can rest assured that their attorney is familiar with any recent changes in the law, and can interpret them appropriately. • More Experienced with Unique Situations: Just like no two people are the same, no two bankruptcies are the same either. A seasoned attorney can help you work through any obstacles you might encounter in your unique situation.
• Familiar with Judges, Other Outcomes, and even Many Creditors in the Area: An experienced bankruptcy attorney will be familiar with the outcome of previous cases, knowledgeable about each particular judge's typical reaction, and may even be familiar with many of your creditors, giving you the upper hand.
If you are considering filing bankruptcy, don't "go it alone". Schedule your consultation with a seasoned bankruptcy attorney here.
Although located in Costa Mesa, we also service these Orange County cities: Aliso Viejo, Anaheim, Bell, Bellflower, Brea, Buena Park, Carson, Cerritos, Cypress, Dana Point, Diamond Bar, Downey, El Monte, Fountain Valley, Fullerton, Garden Grove, Hacienda Heights, Huntington Beach, Irvine, La Habra, La Mirada, La Palma, La Puente, Laguna Beach, Laguna Hills, Laguna Niguel, Laguna Woods, Lake Forest, Lakewood, Long Beach, Los Alamitos, Mission Viejo, Newport Beach, Norwalk, Orange Placentia, Paramount, Pico Rivera, Pomona, Rancho Santa Margarita, San Clemente, San Juan Capistrano, Santa Ana, Seal Beach, Stanton, Tustin, Villa Park, Walnut, West Covina, Westminster, Whittier & Yorba Linda California.